From the Melanated Man:
Spring will officially be upon us in a couple of days. There's no better time to alter your eating habits according to your biology Melanin-Dominant Family than right NOW! For those of you who truly want to reconnect with the REAL YOU, please take heed to the list of foods below that can assist you in your journey.
It's an extensive list, by no means a perfect one. But I believe it's pretty DARN close. I trust the source of the list put in the time and effort to validate it as well.
It's time to cleanse ourselves of the toxins that are poisoning us from the inside out, and transform the way we are living in these stressful times. When our consumption changes, we will transform not only ourselves but the world around us.
Hope this list is suffice.
(List taken from the book What is (Quatum) Melanin Physics? by Neb Heru**MUST READ**)
*Be advised that a good portion of these foods on the list may not be available to you. Do your best to add the foods that you are able acquire. 
Vegetables
-Amaranth Greens
-Avocado
-Katuray
-Asparagus
-Bell Peppers
-Burro Banana
-Chayote (Mexican Squash)
-Cucumber
-Dandelion Greens
-Garbanzo Beans (chick peas)-optional
-Izote-cactus flower/ cactus leaf-grows naturally in California
-Jicama
-Kale
-Lettuce (all except iceberg)
-Mushrooms (all except Shitake)
-Mustard Greens
-Nopales-Mexican Cactus
-Okra
-Olives
-Onions
-Poke Salad-greens
-Sea Vegetables (wakame/dulse/arame/hijiki/nori/kelp)
-Squash
-Spinach (use sparingly)
-String Beans
-Tomato-cherry and plum only
-Tomatillo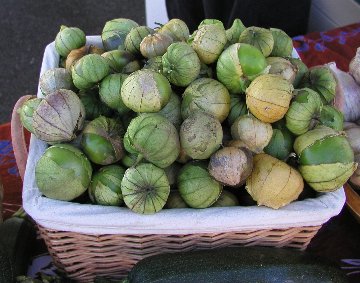 "Tomatillo"
-Turnip Greens
-Zucchini
Fruits
-Apples
-Bananas-the smallest one or the Burro/mid-size (original banana) "found in most farmers markets in the U.S.A.
-Berries-all varieties-Elderberries in any form-no cranberries
-Cantaloupe
-Cherries
-Currants
-Dates
-Figs
-Grapes-seeded
-Limes (key limes preferred with seeds)
-Mango
-Melons-seeded
-Orange (Seville or sour preferred, difficult to find)
-Papayas
-Peaches
-Pears
-Plums
-Prunes
-Raisins-seeded
-Soft Jelly Coconuts
– Soursops -(Latin or West Indian markets)
-Sugar Apples (chermoya)
All Natural Herbal Teas
–Alvaca (or Tulsi)
-Anise
-Chamomile
-Cloves
-Fennel
-Ginger
-Lemon Grass
-Red Raspberry
-Sea Moss Tea
Spices & Seasonings
-Basil
-Bay Leaf
-Cilantro
-Dill
-Marjoram
-Oregano
-Sweet Basil
-Tarragon
-Thyme
-Achiote
-Cayenne
-Cumin
-Coriander
-Onion Powder
-Sage
Natural Salts
-Pure Sea Salt
-Powdered Granulated Seaweed
-Kelp/Dulce/Nori-Natural Seaweeds
Natural Sweeteners
-100% Pure Maple Syrup – Grade B recommended
-Maple "Sugar"-(from dried maple syrup)
-Date "Sugar"-(from dried dates)
-100% Pure Agave Syrup – (from cactus)
Nuts & Seeds – (includes Nut & Seed Butters)
-Raw Almonds and Almond Butter
-Raw Sesame Seeds
-Raw Sesame "Tahini" Butter
-Walnuts/Hazelnut
High "MAGNETIC" Alkaline Herbs
-Yellow Doc(k)
-Sarsaparilla
–Moringa  (click link for more information on the Moringa tree)
-Pau De Arco
-Nettle
-Lilly of the Valley also known as "Ladder to Heaven"
-Black Pepper Corn
-Cloves
-Black Onion Seed (contains Melanin)
Peace and Love to my melanated family,
The Melanated Man