Originally posted on Black Agenda Report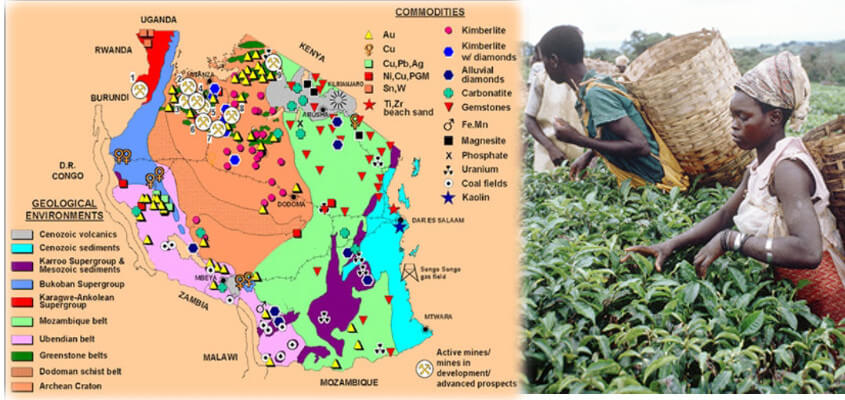 by Mark P. Fancher    8/16/2017
"Tanzania's National Assembly stops short of full nationalization, but nevertheless affirms permanent sovereignty over the country's natural resources."
An elephant can't be ignored even in its natural habitat. There is however one figurative "elephant in the room" that is too often deliberately disregarded by Africa's leaders. Too little attention is given to the domination of the continent's natural wealth by foreign interests.
Libya, Nigeria, Algeria and Angola are in the top 20 countries with the largest proven oil reserves. Oil production is huge in many other African countries as well. Yet, according to UNICEF, nearly half of all children living in sub-Saharan Africa live in extreme poverty.
The incongruity of African poverty and Africa's natural wealth has long been recognized and understood by at least some African heads of state. However, a well-entrenched system of global imperialism has strategically maintained a stranglehold on Africa's resources.
Imperialism has dominated African wealth with many strategies, but perhaps the most significant has been not-so-subtle threats of a violent bloodbath if neo-colonial African governments make even the slightest move to seize oil and valuable mineral resources. In recent years the message has been driven home through the U.S. militarization of Africa under the direction of U.S. Africa Command (AFRICOM). The willingness to pull the trigger was demonstrated by the western military intervention in Libya that preceded the brutal assassination of Muammar Khadafy.
Notwithstanding the military hammer that casts its shadow over the African landscape, Tanzania's National Assembly enacted legislation this summer that stops short of full nationalization, but nevertheless affirms permanent sovereignty over the country's natural resources and allows the government to renegotiate contracts and receive a bigger cut from foreign generated earnings.
"A well-entrenched system of global imperialism has strategically maintained a stranglehold on Africa's resources."
The Natural Wealth and Resources Act of 2017 notes in its preamble that the Tanzanian constitution requires the government to ensure "that the national wealth and heritage are harnessed, preserved and applied for the common good, and to prevent exploitation…" It further requires an "emphasis on the development of the People and the Nation, and in particular … the eradication of poverty, ignorance and diseases."
Significant features of the legislation include:
* Guaranteed "returns into the Tanzanian economy from the earnings" derived from natural resources.
* Licenses granted to enterprises extracting, exploiting or acquiring natural wealth must ensure "that the Government obtains an equitable stake in the venture" and that the people of Tanzania are permitted to acquire equitable stakes in the enterprise.
* Raw resources cannot be exported outside of Tanzania for refining or beneficiation.
* All earnings from natural resources must be retained in Tanzanian banks.
* Legal challenges to Tanzania's sovereignty over its natural wealth cannot be initiated or conducted in non-Tanzanian courts or tribunals.
There are also amendments to existing mining laws that allow for what some might regard as partial expropriation of foreign companies. A companion piece of legislation allows for the re-negotiation of unconscionable terms of existing contracts for extraction, exploitation or acquisition of natural resources.
"Tanzania included in the new legislation a requirement that all disputes be resolved in Tanzanian courts."
The industry lobby group that opposed the legislation described the implications of the new laws as "vast," while also commenting that "…[t]he industry is going to be affected big time." Still another analyst noted: "…the retroactive wording of these laws signals that nationalization is being planned by the government and could be imminent."
There are hazards connected with picking fights with imperialists, and it is understandable why some government leaders not committed to genuine liberation might be intimidated by the posture assumed by the West in Africa. But the history of countries taking control of their resources continues to unfold. Bolivia and Venezuela stand as two notable examples of countries that decided to control their own oil. Their actions have not been without consequences, and Tanzania and any other countries contemplating nationalization can learn from their experiences.
In the short-term, the foreign enterprises impacted by nationalization may not wait for western governments to respond. In the case of Tanzania, an analyst from the global law firm of King & Wood Mallesons suggested that companies consider whether there have been breaches of bilateral investment treaties to which Tanzania is a party and that contain provisions that prohibit nationalization and expropriation without adequate compensation. Under the treaties, such challenges must be submitted for arbitration to the International Center for the Settlement of Investment Disputes. Tanzania apparently anticipated this possibility when it included in the new legislation a requirement that all disputes be resolved in Tanzanian courts.
"The biggest threat to any African country that chooses to keep its own wealth is imperialist military intervention."
In addition to fighting legal battles, foreign businesses can also make the decision to simply withdraw from Tanzania. The King & Wood Mallesons analyst said: "If these amendments are actually carried into operation it is unlikely that Tanzania will be able to attract any significant investments in mining or the oil and gas industries in the foreseeable future."
However, the biggest threat to any African country that chooses to keep its own wealth is imperialist military intervention. U.S. State Department e-mails sent to Hilary Clinton include at least one explicit reference to the fact that a primary reason for French enthusiasm for military intervention in Libya was the prospect of gaining greater access to the country's oil reserves. Nevertheless, even imperialists know that military intervention cannot be undertaken cavalierly. It requires a pretext that will be tolerated if not fully accepted by diplomatic and political forces around the world. Consequently, a prospective intervention would require a balancing of burdens versus benefits, and there is always at least the possibility the imperialists will decide use of armed force is just not worth it.
Africa's need for total liberation and genuine independence is compelling enough that responsible African governments should cease being intimidated by imperialist bluff, bluster and bullying. While the actual motivation and objectives of all members of the Tanzanian government may not be fully known, their actions at least provide an example of how Africa can begin to boldly march forward in reclaiming its own natural wealth. This is a revolutionary process that ultimately must be carried out and completed by the united and organized masses of Africa's people, but government actions of this kind help to create a vision of what can and must be Africa's liberated future.